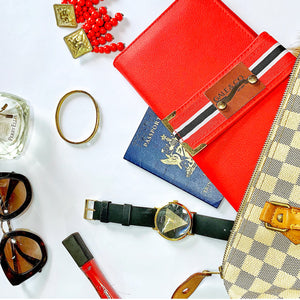 Designed for the travel enthusiast who is proud to identify as Trinidadian, the Patriot Cheri travel document tote is large enough to hold up to 3 passports and their corresponding boarding passes. It has one flap for storage and easy access, a large vertical pocket and a smaller horizontal pocket for storing smaller items like cards, chewing gum or cleansing wipes.
The outer cover is made of a vibrant red vegan leather, and the interior is made of red faux suede. The closure flap features the Trinidad and Tobago national colors and gold hardware is used throughout. 
This item makes a wonderful gift!
Dimensions are 10"H x 5.5"W x 3"D.