Shop Our Black Friday Sale!
Get 30% off on checkout when your total purchases amount to $75USD and more! Sale begins Friday 24th and ends Monday 27th November, 2023.
SHOP NOW!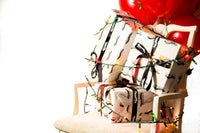 Professional. Organized. Stylish. Productive.

All designed, handcrafted and sold from Trinidad and Tobago.
A woman should be three things- honest, dependable and inspirational, always.
It doesn't matter what career a woman is in, she is always defined by her professionalism.
Shop now
"An organized woman is a productive woman, a productive woman is an inspired woman. And what happens when a  woman is inspired?  She changes the world she lives in."- Robyn Gale, designer of the Nolana document tote. 


Created by a business woman for business women, the Nolana document tote offers stylish and efficient storage for all your call cards, documents, speeches and notes. 
Discover your Nolana
featured collection! Have you seen our clipboards?
keyes Mini: Get organised with our key holders!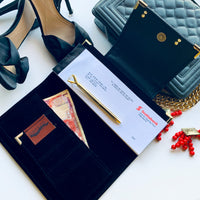 Business Woman?
Discover our chic, functional and stylish checkbook covers, designed with the woman in business in mind.
Olivia luxury checkbook cover
dear Gale & Co-
My Nolana is beautiful, thank you! You all do amazing work, and now my friend wants to order a set like mine!

Elizabeth
The wallet exceeded my expectations, it's even more amazing in person! I absolutely love it and I know it is going to help me stay better organised. Definitely worth it, and I can't wait to add more Gale & Co to my collection!

Jardim
My pieces inspire me to be productive and organised! Thank you for these beauties!

Chistina
THANK YOU FOR SHOPPING! THE JOURNEY BEHIND THE BRAND BEGINS HERE!
Welcome to a closer look at Gale & Co. Here you will find a space curated for all our beloved customers and supporters with the stories of our real life muses, our beliefs, our victories, our struggles, our design process and everything beyond just products!
About us
It all began when...
...our founder, Robyn Gale, discovered a window of opportunity in the fashion market to design and create stylish corporate accessories for women, due to her inability to access affordable, structured and well designed pieces for her own use.
At the time, she was building a career in a position that required her to host a number of lunch and dinner business meetings per week, as well as to give presentations. She had an image that she wanted to build for herself in that industry, one of professionalism, poise and finesse as she stood infront of audiences of key opinion leaders each day to present her data. She also saw that women beside herself needed access to accessories that kept them organised and productive in their careers as well, but the leading brands that created such fashionable, corporate-style goods attached very high price tags to their pieces, often hundreds of US dollars. Robyn therefore jumped at the opportunity to create a high fashion, handcrafted product line, at a more affordable price range, for women in business or women on career building agendas. 
Today, the Gale and Co products can be found carried by professional women and entrepreneurs in Australia, the United Kingdom, Canada, St. Lucia, the USA and Trinidad and Tobago. We are proud to say that all our products are designed and handcrafted in our atelier in west Trinidad, using vegan friendly leathers and suedes as our base. Further to which, the paperboard that is used in the manufacture of the interior of our products is made of 100% recycled paper, as we strive to build an environmentally sustainable product line.
We also try, as much as possible, to source our raw materials from Trinidad based suppliers, as we believe it is important that our business contributes to the  stimulation of the local economy through supply chain partnerships with on-island companies. We are a proud Trinbagonian brand, and strive to demonstrate our patriotism through a continuous show of loyalty; loyalty portrayed through select designs that feature the national colors of our island of red, white and black, or by our support of local trade. However we do it, our aim is that our brand name, image, memory and DNA always be tied to a vested love for waving the flag of Trinidad and Tobago. 
What This Woman Did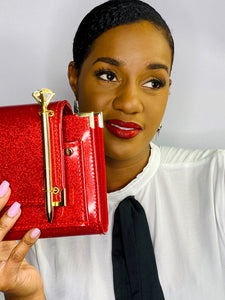 From Fetching Sneakers to Selling Out Art Exhibitions
Meet Naila Felice, a successful local portrait painter and artist, as she shares on her career journey as a creative!
Gale's Featured Woman
The Blossom Collection
Featured with our muse, Tricia Dyer, an attorney at law from West Trinidad, the Blossom collection features a burst of floral colors in vegan leather, beautifully accented with all gold hardware. 
Discover
A Bit of What We Believe
Those who fear You will be glad when they see me, because I have hoped in Your word. Psalm 119:74
questions with Gale & Co
1. Are your products made with animal leather? No, we are a vegan friendly, sustainable company. We use vegan leather, recycled canvas and 100% recycled paperboard in the manufacturing of all our products.
2. Where are your products made? We are proud to say that our collections are made in Trinidad.
3. How long does it usually take before my order is shipped? Orders usually take 5-10 working days to leave our studio once your order is placed, and 1-2 days for delivery (within Trinidad), and 3-5 days (internationally).
4. Can I custom design my  Nolana document tote or Taylor SS wallet? Yes, just send us an email with your specifics and we will customize your order for you.
5. Are your products easy to clean? Yes, our vegan leather materials clean easily with baby oil, face wipes or soap and water. Our recycled canvas materials are Scotch-guarded to offer stain resistance.
6. Is the pen on the cover of your products detachable for everyday use or is it just a stylish embellishment? Our pens are stylish but more importantly they are functional, positioned on the flap of our products for quick and easy access.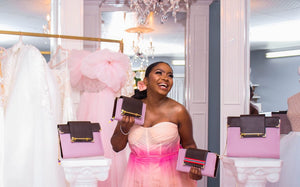 Let's Stay in Touch!
Reach us via email on info@galeandcotrinidad.com
Telephone 1-868-740-8205