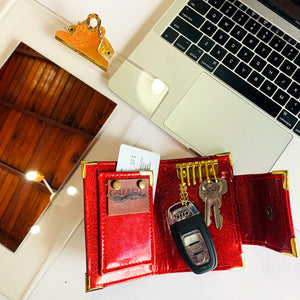 Never struggle to find those keys again, that always seem to get lost in your handbag! The Keyes key holder, is made of vegan leather and has gold hardware throughout. The interior is made of vegan leather. 
The key holder has 6 key rings, and also includes a single flap suitable for quick storage of cards, cash or ID when on the go or preferring not to carry a conventional full wallet. 
Customise the design by choosing your own color of the body, to match your car, handbag, wallet or just to better reflect your personal taste. Select and checkout this custom option, and we will contact you via email or phone call to discuss your unique color combinations.
This piece also makes an excellent gift due to its practicality and style!
Dimensions are 4"H x 3"W x 1"D
Keychain charms are sold separately.